Terry's Restaurant + Lounge is open for "Take Out" food, cocktails & wine.
Please use top navigation to locate "Food & Drink To Go" menus.
To order take out: 831-620-7454 (available from 11:30am to 9:00pm)

Plan to wear a face covering when entering our Lobby and Dining Area.
Welcome
Terry's Restaurant + Lounge at Cypress Inn, Carmel by the Sea. Known for its classic cocktails and canine-friendly vibe, Carmel-by-the-Sea's iconic Cypress Inn, a 1929 landmark property co-owned by legendary Hollywood actress Doris Day, debuts a fresh new interior design at its signature restaurant paired with a new spring menu. Terry's Restaurant + Lounge, the lobby focal point, steps up with a crisp, contemporary design perfectly cast to the Inn's Mediterranean footprint.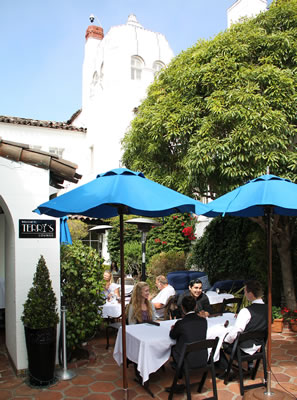 Inspired by the property's fluid architecture and Spanish Colonial flair, Terry's Restaurant is set in muted oyster and alabaster tones with comfortable grey tufted leather banquettes rimming the outer room. Clean lines are matched with a host of vintage black and white photographs gracing the walls. One of the major design elements is the silver-leaf paper treatment on the barrel ceiling, which lights up to create a jewel box effect throughout the entire room. The reimagined space pays homage to the original Moroccan décor inspired by the restaurant's namesake and Doris Day's beloved son, Terry Melcher, while adding a bit of glamour and sophistication. A mixed floor plan combines multiple seating arrangements for a total of 50 diners.
The locally-sourced menu has a Mediterranean flair yet remains true to its Monterey Bay roots. Tapas and starters include Monterey Bay Calamari and Grilled Monterey Artichokes with Dungeness Crab Timbale, Ahi Tuna Poke and Curry Lamb Meatballs making a showing. Dinner delivers a piquant new Lamb and Chicken Harira served with couscous, Chickpea Curry, Monterey Sand Dabs, sinful Braised Short Ribs served in a rich Zinfandel-veal reduction and Grilled Salmon with a brunoise of tomato, bell pepper and fennel. The signature Cypress Burger, paired with caramelized onions and Gruyere cheese, is also on tap. ($15.00 – $29.00).
STINGERS — AND KEEP THEM COMING…
A line-up of '20s to '40s-era hand-crafted cocktails keeps things buzzing at Terry's Lounge. Based on the 1957 film "Kiss Them For Me," Cary Grant's love of the minty Stinger, a drink most likely born during Prohibition to disguise the smell of hooch, debuts on the carte as does the historic Pisco Punch and powerful Who's the Boss, blending the firepower of three spirits — lemon, simple syrup and classic angostura bitters. For non-traditionalists, the Sidecar's cousin – Between the Sheets – rounds out the Brandy selections.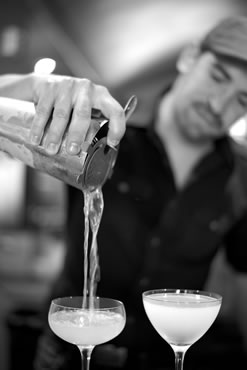 President Reagan, who starred with Day in the 1952 "The Winning Team," favored the gin-n-juice Orange Blossom which is served with a side of jelly beans. Whiskey-drinking James Cagney, who starred with Day in the 1955 "Love Me or Leave Me," inspired a spin on the classic Old-Fashioned. Other stars on the menu include a vintage Whisky Sour, Clover Club and punchy Rum Zombie as well as locally sourced wines from Monterey County's top AVAs.
HOLLYWOOD BY THE SEA
From the ornate entrance and stately wrought iron embellishments to clubby Terry's Lounge — everything about the Cypress Inn speaks to the Golden Age of Hollywood with a sleek retro vibe. The interior design of all 44 guestrooms and suites — including the coveted Queen Tower with its triad of impeccable views — fuses Hollywood glam with Spanish-Moroccan overtones in a fresh spiced-tone palette of paprika, ginger and clove. Suites step things up a notch with classic silver and copper overtones. The Mediterranean-style landmark speaks equal parts Shar-Pei and Sazerac with an animated Yappy Hour and muttinis served daily from 4:30 p.m. to 6:00 p.m.
BACKSTORY
An iconic landmark since 1929 and part of the elite collection of Carmel Boutique Inns, Cypress Inn is co-owned by legendary Hollywood actress and animal rights enthusiast Doris Day. The 44-guestroom property is set in a Mediterranean footprint with vaulted ceilings, airy courtyards, in-room fireplaces and a crisp, contemporary décor. Ideally located just blocks from Carmel Beach and walking distance to 100+ art galleries, Cypress Inn offers weekend tea, a pet-friendly Yappy Hour and sustainable dining menu at Terry's Restaurant + Lounge, Carmel's first Seafood Watch program participant. Carmel-by-the-Sea is one square mile of incorporated city set along Carmel Bay on the Monterey Peninsula. It is located 120 mi./192 km., south of San Francisco and 350 mi./560 km., north of Los Angeles. The Monterey Peninsula Airport (MRY) is served by non-stop flights from Denver (DIA), Las Vegas (LAS), Los Angeles (LAX), Phoenix (PHX), San Diego (SAN) and San Francisco (SFO).